Episodes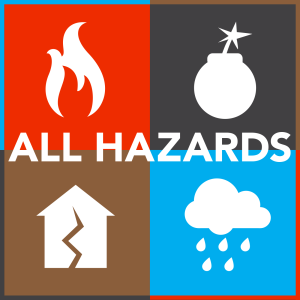 Wednesday Nov 13, 2019
Wednesday Nov 13, 2019
In this episode of All Hazards (#69) we talk with Vance Taylor; he's the chief of the Office of Access and Functional  Needs at Cal OES. Topics of conversation include the importance of partnerships, issues and concerns related to AFN that come up during nearly every emergency in California, and how Taylor and his team tackle those problems before, during and after the emergency strikes.
Vance is responsible for ensuring the needs of individuals with disabilities and persons with access and functional needs are identified before, during and after a disaster. Vance is a nationally recognized public speaker and advocate for individuals with disabilities.  He has a Master's degree in homeland security from the University of Connecticut and an undergraduate degree from Brigham Young University in communications.
Links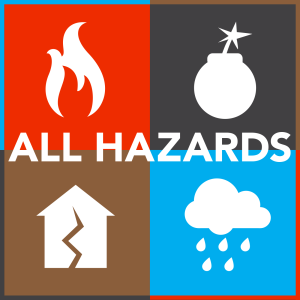 Thursday Jul 18, 2019
Thursday Jul 18, 2019
In this episode of All Hazards, we talk about the important relationship between Cal OES and the private sector. We sit down with two people who have forged a working relationship that exemplifies the symbiotic nature of disaster response and recovery teamwork. Abby Browning is the Chief of the Office of Private Sector/ Non-Governmental Organization Coordination at the Governor's Office of Emergency Services; Tim James is Senior Manager, Local Government Relations, California Grocer's Association.
The California Governor's Office of Emergency Services (Cal OES) recognizes the need for communication, coordination and cooperation among all emergency management stakeholders in California. This is underscored by our long-standing relationship with the private sector. The impact of the 2007 and 2008 California wildfires emphasized the critical need for the organized synchronous exchange of information and resources between public and private sector organizations in mitigating against, preparing for, responding to, and recovering from disaster events.
Historically, information and resource sharing activities between the public and private sectors have too often taken place in an ad hoc, isolated, and reactive fashion, resulting in less than optimal assistance to individuals, families, communities, and the economy. Realizing the need for stronger public-private collaboration, legislation was enacted (Senate Bill 546) and issued, giving Cal OES greater authority to partner with private industry. The "Authorities" Section of this document provides additional information about the statue and directive. A copy of the legislation may be found in the "Appendices" Section. To further support those efforts, Cal OES signed Memorandum of Understandings (MOUs) with private sector and non-profit organizations creating the Business and Utility Operations Center (BUOC) comprised of the Utility Operations Center (UOC) and Business Operations Center (BOC).
Abby Browning is responsible for developing and maintaining CalOES's relationships with business, associations, companies, and universities, as well as nonprofit, nongovernmental and philanthropic organizations.  Prior to joining CalOES, Abby was the Special Advisor for International Trade in the Governor's Office of Business and Economic Development. She was an essential member of the Brown Administration's international team, working on trade missions to China and Mexico, as well as fostering countless other international business connections for California.  Abby has also worked with the California Chamber of Commerce in the International Affairs and Corporate Relations departments, as well as the California Seismic Safety Commission. She holds a B.A. in Political Science from West Virginia University and she earned an M.A. from the School of Government at California State University, Sacramento.
Links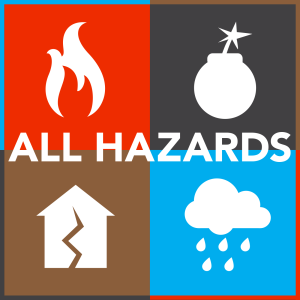 Tuesday Jan 29, 2019
Tuesday Jan 29, 2019
In this episode (# 57) we talk with Mike Mohler, Deputy Director of Communications for CALFIRE. In his current role, as well as his prior position as Battalion Chief at Southern Region, Mike has worked many of California's biggest wildfire disasters, historical ones at that.  He talks about why there is no longer a "fire season" and how wildfires really are different from those just a few years ago. He discusses the challenges fire agencies have with the numerous factors contributing to year-round fires including fuels, drought, tree mortality, climate change and wildland-urban interface. He also addresses wildland management, the importance of Firewise communities, local government and community engagement, defensible space and thinking completely differently in order to mitigate future deadly mega-fires, and so much more.
As mentioned, Mike Mohler is currently the Deputy Director, Communications, California Department of Forestry and Fire Protection. Mohler began his fire service career in 1991, as a reserve firefighter in Orange County, assigned to the heavy equipment and crew division. 
While working as a reserve, he attended the Santa Ana College fire science program and worked full time as a firefighter for Boeing's Aeronautics and Missile Systems Division in Anaheim. Mike began his career with CAL FIRE in the San Bernardino Unit as a Firefighter I in June 2000. 
In May 2001, Mike promoted to Firefighter II in the Riverside Unit and in 2005, he promoted to Fire Apparatus Engineer. In 2010, Chief Mohler promoted to Fire Captain in the San Diego Unit.  In 2015, he promoted to Battalion Chief at Southern Region, where he worked for the next 3 years supervising the Southern Region information and communications programs. Mike was vital in continuing to build the Department's nontraditional media exposure with projects such as Netflix's Fire Chasers and Extreme Weather with National Geographic which has showcased our department worldwide.
Chief Mohler participates on several statewide cadres and working groups, including S-420, CIMCI and AAIMS.  He holds several qualifications, including Advanced All Hazard Incident Commander from the University of Texas A&M, and has been assigned to a CAL FIRE Incident Management Team for over 11 years. He currently holds a seat on FEMA's advisory committee for response to large scale incidents. In addition to his Departmental assignments, Chief Mohler has also served as an Honor Guard member for over 17 years, honoring our fallen and supporting their families. Mike is currently enrolled in American Military University's Emergency and Disaster Management program.
Links