Episodes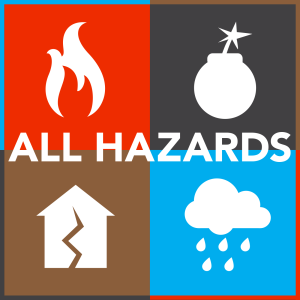 Tuesday May 26, 2020
Tuesday May 26, 2020
This is the return of All Hazards after a Covid19 Hiatus. We hope you're all safe and well.
We sat down with members of the Cal OES Office of Legislative and External Affairs in January 2020 with the intention of posting it asap. Then the coronavirus hit. It seemed there were more pressing issues on everyone's minds, so we didn't want to post this episode at that time. But it's here now.
Lori Nezhura, Patricia Utterback and Paul McGinnis bring us into the world of elected officials and how they affect each other during disaster response.
Links
Tuesday May 31, 2016
Tuesday May 31, 2016
Jerry was born Jerome Michael Haleva in May of 1946. He served as chief of staff for Senator Bill Campbell (namesake for the Cal OES HQ building) from 1975-1990.  But he's more recognizable as an actor in his comedic roles as Saddam Hussein, especially due to his resemblance to the now deceased Iraqi dictator.  He says he's a "rock star" among "Achievers," fans of the movie "The Big Lebowski," taking his place at the autograph table at annual Lebowski Fests alongside The Dude himself, Jeff Bridges, as well as John Goodman, Steve Buscemi, John Turturro, Julianne Moore and many other actors from the film. 
To date (May 2003) his every credited acting role has been that of Saddam Hussein. (Source: IMDB)
He is currently a contract lobbyist (Sergeant Major Associates) and lives in Sacramento, California. 
Filmography (Source: IMDB)
2002 Live from Baghdad (TV Movie) ; Saddam Hussein
2002 The First $20 Million Is Always the Hardest; Hologram Saddam (as Jerry M. Haleva)
1998 Jane Austen's Mafia!; Saddam Hussein
1998 The Big Lebowski; Saddam Hussein
1993 Hot Shots! Part Deux; Saddam Hussein
1991 Hot Shots!; Saddam Hussein (as Jerry Halera)
2009 The Achievers: The Story of the Lebowski Fans (Documentary) Saddam Hussein / Himself
Links/Resources
http://www.imdb.com/name/nm0355062/