Episodes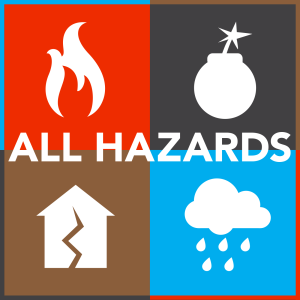 Wednesday May 01, 2019
Wednesday May 01, 2019
In this episode (#62) of All Hazards we talk with Orange County Fire Captain Richard Ventura. He's a member of the California Urban Search & Rescue Task Force 5 and is the director of the Southern Wind RDD US&R Full Scale Exercise. That's the topic of conversation.  This is a learning based exercise that challenges US&R task forces in an environment that's the next best thing to a real world event.
The scenario for Southern Wind 2019:
During the weeks of May 1st and 9th 2019, there will be a World Cup Soccer tournament held in Southern California. During the early morning hours of May 1st, a car bomb explodes at Union Station near downtown Los Angeles. Simultaneously another bomb explodes at the Stub Hub Center in Carson and the Exchange Mall (Del Valle) where prominent National Soccer Team is scheduled to make a public appearance; both explosions cause massive injuries and structural damage. At the Exchange Mall there is a partial collapse of the structure and a large fire. The adjacent Memorial Hospital (Del Valle) is seriously damaged. The source of the Exchange Mall explosion is a Radiological Dispersion Device RDD. As a result of the structural collapse at the Exchange Mall and Memorial Hospital, CA-TF6 and CA-TF8 will be activated.  US&R teams will assess the scenes and proceed to rescue survivors and save lives.
Participating Organizations:
California Task Force 2 (CA-TF2)
California Task Force 5 (CA-TF5)
California Task Force 6 (CA-TF6)
California Task Force 8 (CA-TF8)
Los Angeles County Fire Department (LACoFD) - HazMat 150
Sponsors:
California Governor's Office of Emergency Services
Orange County Fire Authority
FEMA National Urban Search and Rescue Response System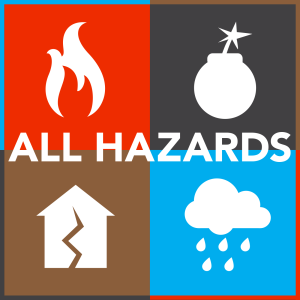 Tuesday Oct 03, 2017
Tuesday Oct 03, 2017
Being a dispatcher is stressful enough, but imagine being one when your entire county must evacuate? In this episode, Cal OES Public Information Officers Robb Mayberry and Monica Vargas chat with two dispatchers from the Butte County Sheriff's Office about what it was like when evacuations were ordered for Butte, Sutter, and Yuba Counties this last February.
Dispatchers Jenifer Honea and Trina Valeigh speak openly about their experience and what was going through their minds during the Oroville Dam Spillway Incident. Hear how first responders and this community came together and maintained operations during a stressful time. They will share how they managed to answer the incoming calls while at the same time having to relocate an entire dispatch center, which laid in the path of possible flood waters. Get tips on how to be better prepared in case you ever have to leave your home because of the threat of an imminent disaster. Find out the one thing you should do when you move into a new community. This episode offers valuable information for those thinking about starting a career as a dispatcher and is eye-opening for even the most seasoned dispatchers.
Links 
Oroville Spillway Incident Resource Page
Oroville Spillway Incident in Pictures
Photos
Kimber the Butte County Sheriff's Office Dispatch Dog
From Right to Left Butte County Sheriff's Office Dispatchers Jennifer Honea, Trina Valeigh, Cal OES PIOs Monica Vargas and Robb Mayberry
Oroville Dam