Episodes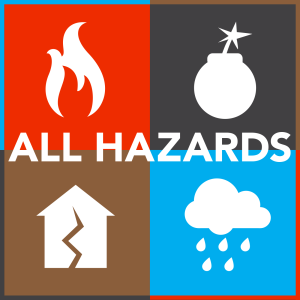 Wednesday May 01, 2019
Wednesday May 01, 2019
In this episode (#62) of All Hazards we talk with Orange County Fire Captain Richard Ventura. He's a member of the California Urban Search & Rescue Task Force 5 and is the director of the Southern Wind RDD US&R Full Scale Exercise. That's the topic of conversation.  This is a learning based exercise that challenges US&R task forces in an environment that's the next best thing to a real world event.
The scenario for Southern Wind 2019:
During the weeks of May 1st and 9th 2019, there will be a World Cup Soccer tournament held in Southern California. During the early morning hours of May 1st, a car bomb explodes at Union Station near downtown Los Angeles. Simultaneously another bomb explodes at the Stub Hub Center in Carson and the Exchange Mall (Del Valle) where prominent National Soccer Team is scheduled to make a public appearance; both explosions cause massive injuries and structural damage. At the Exchange Mall there is a partial collapse of the structure and a large fire. The adjacent Memorial Hospital (Del Valle) is seriously damaged. The source of the Exchange Mall explosion is a Radiological Dispersion Device RDD. As a result of the structural collapse at the Exchange Mall and Memorial Hospital, CA-TF6 and CA-TF8 will be activated.  US&R teams will assess the scenes and proceed to rescue survivors and save lives.
Participating Organizations:
California Task Force 2 (CA-TF2)
California Task Force 5 (CA-TF5)
California Task Force 6 (CA-TF6)
California Task Force 8 (CA-TF8)
Los Angeles County Fire Department (LACoFD) - HazMat 150
Sponsors:
California Governor's Office of Emergency Services
Orange County Fire Authority
FEMA National Urban Search and Rescue Response System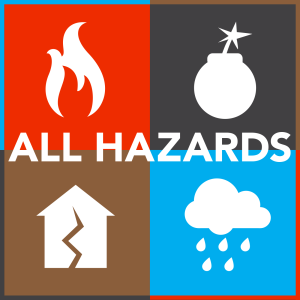 Monday Mar 26, 2018
Monday Mar 26, 2018
(SGM Gerald Davis, center, looking at camera)
In recent months, California and our nation has been no stranger to devastating natural and man-made emergencies. So, the California Governor's Office of Emergency Services (Cal OES) joined the California National Guard's Homeland Response Force (HRF) and 95th Civil Support Team, along with multiple State/Federal Urban Search & Rescue Task Forces, CAL FIRE, FBI, the Department of Energy, and several other elite emergency response agencies for a full-scale terrorism response exercise at Sacramento's Sleep Train Arena.
"In just the last year we've seen our highly trained emergency response and recovery teams deployed across the nation to lead critical lifesaving missions," said Cal OES Director Mark Ghilarducci. "This exercise will test those critical rescue and response skills, as well as enhance our ability to respond to real world events that could happen anywhere in California, our nation or in other parts of the world."
The training scenario involved a series of simultaneous terrorist attacks across Northern California following a 6.5-magnitude earthquake. The attacks include simulated improvised explosive devices (IED), the detonation of a simulated radiation-dispersal device (RDD) and firearms. Sleep Train Arena will serve as the training site for IED and RDD response, while Sonoma Raceway served as the site for active shooter response training. Hundreds of emergency-response personnel, vehicles, and aircraft participated.
"It's only through regular, realistic training alongside our partner agencies that we keep our skills sharp and response times low," said Maj. Gen. David S. Baldwin, Adjutant General for the California National Guard. "These exercises establish the relationships and interagency coordination that is fundamental to an effective response during emergency incidents."
In this episode we pull SGM Gerald Davis, of the California National Guard, to talk about organizing such a large and complex training exercise and why they're so important, and so important to make as real as possible.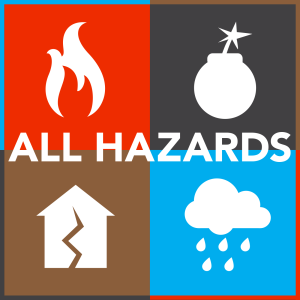 Tuesday Feb 27, 2018
Tuesday Feb 27, 2018



Deputy Chief Larry Collins is the Cal OES Fire and Rescue Deputy Fire Chief of the Special Operations and Hazardous Material Unit, having joined Cal OES in November, 2016. He oversees the State Urban Search and Rescue (US&R) Response Program which includes response, training, terrorism, Weapons of Mass Destructions related operations, flood and swiftwater rescue operations, and hazardous material unit.

Chief Collins joined Cal OES Fire and Rescue Division after serving 36 years in all ranks at the Los Angeles County Fire Department (LACoFD). He served up to the Battalion Chief position, with many years assigned to some of the busiest fire/rescue companies and battalions, and has 30 years of experience as a paramedic. He was assigned to three active LACoFD battalions and he spent 19 years as a Captain at the department's Central Urban Search and Rescue Unit, responding by ground unit or helicopter to a wide variety of challenging technical rescues, multi-alarm fires, and major emergencies across Los Angeles County and surrounding counties. He was a Search Team Manager and Task Force Leader on LACoFD's California OES/FEMA USAR Task Force (CA-TF2), deploying to disasters including the 2015 Nepal Earthquake disaster; the 2011 Japan Earthquake/Tsunami catastrophe; the 2010 Haiti Earthquake, and the 1994 Northridge Earthquake. Chief Collins has been an active member of the FEMA US&R Incident Support Teams (IST), having served since 1995 as a US&R Specialist, Division/Group Supervisor, Branch Director, and Operations Section Chief to help coordinate federal urban search and rescue operations at Hurricanes Sandy, Katrina, Ivan, Ike, Rita, Frances, Gustav, Irene, Dennis, Wilma, Dolly, Earl, and most recently Mathew. As an IST member, he also responded to the 9/11 Attacks, the Oklahoma City bombing, and various national security events and exercises. 
Chief Collins left LACoFD with a record of innovative leadership and actualizing informed visions for the future of the fire/rescue services. During his employment with LACoFD, Chief Collins demonstrated his ability to initiate, institute, and successfully manage unique improvements and enhancements to public safety. This included many years of invaluable inter-agency and multidisciplinary experiences, collaborations, and innovations that continue to have local, state, national, and international impact. Chief Collins' diverse list also includes: founding of LACoFD's Swiftwater Rescue Program and the continued development of LACoFD's US&R Program, working with Cal OES and the Federal Emergency Management Agency (FEMA) on development of the state and national US&R systems, also working with Cal OES on developing the statewide swiftwater rescue team network, mud and debris flow response protocols and rescue procedures, fireground rapid intervention protocols, active shooter response procedures, aquatic helicopter swiftwater workshop rescue evolutions, terrorism planning and response, new approaches to diverse challenges like trench and excavation collapse rescue, large animal rescue, confined space/deep shaft rescue, and the use of technology to improve search and rescue. His experiences even included new designs for firefighter turnouts/bunker gear to improve the speed by which downed firefighters can be rescued.

Chief Collins frequently served as a bridge between emergency response and the sciences, industry, and government agencies helping to innovate multidisciplinary programs like the California Shakeout Earthquake Exercise; the California Catastrophic Earthquake Plan; the L.A. County Tsunami Plan, and the Post-Station Fire Mud and Debris Flow Response Plans. Chief Collins has been able to communicate and articulate the visions, innovations, and lessons learned to fire/rescue service operators and the public by authoring reports, published articles, and books. Ironically, author Dete Messerve based a main character in her novels "Good Sam" and "Perfectly Good Crime" on Chief Collins and his work.

Chief Collins is also a recipient of the Carnegie Hero Fund Award (1983), and the L.A. County Community Protector Award. He was named as firefighter of the year in several of LACoFD's contract cities, and he received the Lifetime Achievement and team awards from the Higgins/Langley Memorial Fund for Swiftwater Rescue.
Links
Urban Search & Rescue Task Forces
Sky News Report on the Rescue of Jeanette: Woman rescued after six days Haiti survivor
BUCK HELM — Man Who Lived 90 Hours In Quake Rubble Is Dead
Loma Prieta earthquake: Mercury News coverage, the Buck Helm rescue
4 things EMS providers must know about crush syndrome