Episodes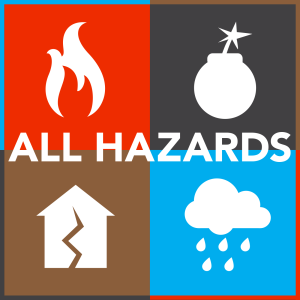 Tuesday Aug 28, 2018
Tuesday Aug 28, 2018
Chief Craig Cottrill: Wellington/Chatham Islands Fire and Emergency
At the height of the wildfire siege across California, when 15 major fires burned, there were more than 13,000 firefighters from 18 states and two other countries battling the blazes. Those countries included Australia and New Zealand. 41 of those firefighters were deployed to the Mendocino Complex in Lake County, and 12 were assigned to the Carr Fire in Shasta County. Their roles varied and their value to the effort could not be understated. They brought a wealth of knowledge, experience and energy and will eventually return having gained a new understanding of firefighting environment, strategy and technology.
In this episode of All Hazards, we sit down with Chief Craig Cottrill, of the Wellington/Chatham Islands Fire and Emergency, New Zealand.  Hear about the challenges of being part of an international mutual aid team, the differences in how wildfires are tackled here versus New Zealand, from the technologies to the assets and strategies, as well as how Chief Cottrill manages his team and explains how Californians are similar to New Zealanders in adopting the "Kiwi thing to do."
New Zealand's Camp at ICP in Modoc County
Links
Mutual Aid Comes In From All Over State, Country & World For Largest Fire In California History
Thursday, August 9, 2018 Press Release
Governor Brown Issues Executive Order to Streamline Cleanup and Recovery in Communities Impacted by Wildfires
SACRAMENTO – Governor Edmund G. Brown Jr. today issued an executive order to cut red tape and help streamline recovery efforts in communities impacted by the devastating wildfires that continue to burn in Lake, Siskiyou, Shasta, Mendocino and Napa counties.
There are 15 major fires currently burning in California that have destroyed homes and infrastructure and continue to threaten communities. More than 13,000 firefighters from California, 17 other states, Australia and New Zealand are working the front lines of wildfires statewide.
The executive order includes provisions that:
Expedite debris removal and cleanup of homes and businesses that were damaged or destroyed by the fires;
Extend the state's prohibition on price gouging during emergencies; 
Suspend planning and zoning requirements and state fees for manufactured homes and mobile home parks to help displaced residents with housing needs; 
Allow for the accelerated hiring of additional personnel for emergency and recovery operations; 
Provide waivers on temporary school facilities and outdoor physical education requirements to allow schools to open as quickly as possible; 
Extend the filing deadline for certain taxes for businesses in the impacted counties; 
Streamline contracting and purchasing rules; and 
Strengthen coordination between state agencies on environmental restoration in fire-impacted areas. 
Last weekend, Governor Brown announced the federal government's approval of a presidential major disaster declaration for Shasta County and met with local leaders and fire and emergency management officials at the Carr Fire Incident Command Post in Anderson. The federal government is reviewing the presidential major disaster declaration request for Lake, Mendocino and Napa counties on an expedited basis as preliminary damage assessments continue. The Mendocino Complex fire is now the largest fire in state history and remains a dynamic challenge for firefighters.
Previously, Governor Brown declared a state of emergency in Shasta, Lake, Mendocino, Napa, Riverside and Mariposa counties due to multiple fires and secured federal aid to further support communities impacted by the Carr Fire.
Last week, Governor Brown joined the state's top emergency management officials at the State Operations Center in Mather to provide an update on the ongoing fire fight. The State Operations Center is activated to its highest level to help local, state and federal emergency response officials address emergency management needs.
Information on additional resources for residents impacted by the fires is available at: http://wildfirerecovery.org/
The full text of today's executive order can be found here.