Episodes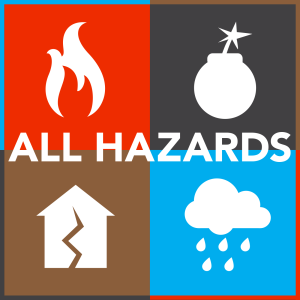 Tuesday Nov 08, 2016
Tuesday Nov 08, 2016
For Episode #19, we traveled to San Luis Obispo County, the home to Diablo Canyon Nuclear Power Plant, where Cal OES as well as many other local, state, and federal agencies were participating in a radiological training exercise.  These types of exercises are held every two years and evaluated by the Federal Emergency Management Agency (FEMA). The exercises assist in the development of emergency response plans to ensure that the health and safety of the public is protected in the event of a radiological incident. 
Today's podcast features Ron Alsop, the Emergency Services Manager for San Luis Obispo County Office of Emergency Services (OES). He has been with the county's OES for 26 years and was previously with Cal Fire for three years. He talks about the importance of having full scales exercises and the unique challenges faced by this region.
Ron also discusses how educating the community about the nuclear power plant and how the Wireless Emergency Alert (WEA) system can assist in the event o fan emergency. He also shares an example how controlling rumors is critical during an incident, especially in this day of social media. He concludes with advice to those responsible for delivering information to the public and how transparency can help build trust.
In addition to ongoing preparedness work that includes nuclear power plant emergency readiness, Ron's experience includes responding to incidents such as large fires throughout the state, the 6.5 San Simeon earthquake in 2003 in San Luis Obispo County, winter storms, commercial aircraft incidents, including the 2000 Alaska Airlines incident off of Ventura County,hazardous material incidents and he provided Emergency Manager's Mutual Aid(EMMA) assistance to Cal OES in after the 1994 Northridge earthquake.
Ron served on the California statewide committee that developed the initial EMMA plan and on a statewide task force related to initial Standardized Emergency Management System (SEMS) implementation. Ron is a past chair of the California Operational Area Coalition, which is a coalition of California's 58 county emergency managers and a former member of the California Association of Public Information Officials.
Links to additional information or resources:
San LuisObispo County Office of Emergency Services
DiabloCanyon Nuclear Power Plant